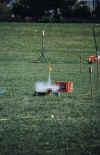 The Razor boosting on a B6-4.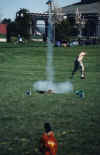 Caught just the tail of Katie's Recoil lifting on a B4-4.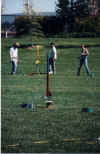 Ok, the engine appears to be smoking.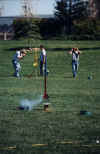 "I think I can, I think I can!"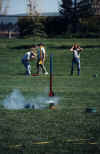 Caught this one just as the E18-4 engine lit.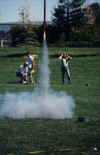 Cut off the top part of the Arreaux, but still got a good shot of liftoff. I really like those AeroTech engines, especially after only using Estes engines for many years. :)

My PML Phobos blasting into the sky on a G64-4W at LUNAR's June launch.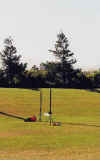 This is from the LUNAR July launch. The Phobos getting ready to take to the sky. The engine just lit here...

...and took off like a shot a 1/2 second later on that G64-4W again.

The Arreaux takes to the sky for the 6th time on a F22-7J.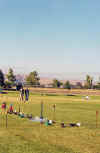 Katies Super Nova Payloader just leaving the pad on a D12-5.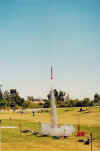 The Cheetah boosting upwards on an E18-7W.